Attorney Maria Mena
Attorney Maria Mena is a seasoned criminal defense attorney, who is licensed to practice law in Maryland, District of Columbia, and in Federal Court. She was born in Cuba, and after entering the U.S., she devoted her life to helping those in need of competent and affordable legal services.
Upon graduating from Howard University School of Law in Washington, D.C. in 1987, Attorney Mena began her private law practice. For the last 25 years, she has acquired a record of success that is unmatched by many of her peers. She has represented and successfully vindicated numerous clients, who have been charged with crimes such as DWI, drug charges, and more.
Contact her today for your free consultation.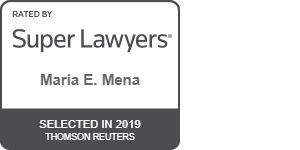 Attorney Mena is fluent in both English and Spanish and is zealously dedicated to helping anyone in need of legal help regardless of color, gender, national origin, or sexual orientation.
She believes strongly that developing an honest and comfortable relationship with her clients is a key factor in achieving a successful case result. She does not judge her clients and anything you tell her is absolutely confidential. From the moment you meet Attorney Maria Mena, you will immediately recognize a genuine concern for your issue and level of professionalism that is rare among lawyers.
Despite her polite demeanor toward her clients, she fights fiercely with local prosecutors and judges, to ensure that her clients' rights are not violated. Attorney Mena understands that her actions will determine whether her clients will retain their freedom, and therefore does whatever is necessary to win each case. Attorney Mena is also known for handling serious felony cases. Some of which include: rape cases, child sex abuse cases, assault cases, and drug cases. Throughout Maryland, Attorney Mena is well-known and respected by law enforcement, district attorneys, and judges. Once you hire Maria to represent you, you will be sending a clear message to the courts that your freedom is secure.
Schedule your free initial consultation today.